Gadgets play an important role in James Bond's missions. They either aid him in accomplishing the mission at hand, or get him safely away from sticky situations. Leave it up to Q (short for Quartermaster) to supply 007 with the equipment tailor-fit for each job. In his many years in Her Majesty's Secret Service, Bond surely has used a plethora of spy-worthy doohickeys. We've documented the top 10 for you right here:
10. Personalized Walther PPK | 007: Craig Daniel |Movie: Skyfall (2012)
This particular firearm has 007's palm print encoded onto the handle so that only he can use it. A henchman in the movie attempted to use it against Bond, but to no avail. In the ensuing chaos, he was dragged away and presumably eaten by a komodo dragon.
9. Omega Seamaster Quartz Professional 300m | 007: Pierce Brosnan | Movie: GoldenEye (1995)
A watch with a built-in laser and remote detonator. Pure awesome.
8. Cigarette and Toothpaste Bomb | 007: Timothy Dalton | Movie: License To Kill (1989)
With James Bond on undercover missions, his gadgets should be inconspicuous so as to not blow his cover.
These seemingly everyday items, a cigarette pack and toothpaste tube, wouldn't be even considered as dangerous, until something is blown apart to smithereens by them.
7. Sonic Agitator | 007: Pierce Brosnan | Movie: Die Another Day (2002)
While fending off a bad guy, 007 used this device to shatter the glass below him, giving him a clean getaway.
It works by turning on the ring to a certain frequency and placing it over glass items to break them. This could also work as a diversion tactic, rendering enemies immobile due to the piercingly high sonic frequencies.
6. Rocket Pack | 007: Sean Connery | Movie: Thunderball (1965)
Having a rocket pack is just cool. 007 can make a quick escape from the clutches of evil with this item.
5. Cloaking Device | 007: Pierce Brosnan | Movie: Die Another Day (2002)
Bond's Aston Martin Vanquish in Die Another Day came equipped with a cloaking device. It took photographs of its surroundings and projected them onto the body as camouflage.
Ideal for stealth assignments where invisibility to enemy presence is imperative.
4. Ring Camera | 007: Roger Moore | Movie: A View To Kill (1985)
MI-6's went to great lengths to develop this futuristic technology. A device like this is perfect for eavesdropping on conversations with highly sensitive information.
3. Ghetto Blaster | 007: Timothy Dalton | Movie: The Living Daylights (1987)
Equipped with a rocket launcher, this puts the "blaster" in ghetto blaster.
Do these Ghetto Blasters come with CD players?
2. Seagull Snorkel Suit | 007: Sean Connery | Movie: Goldfinger (1964)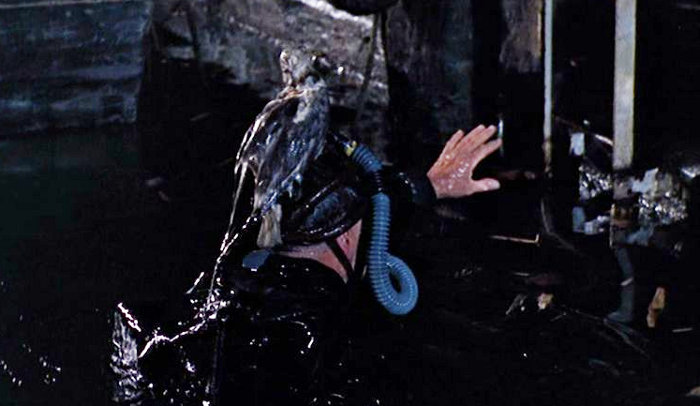 The seagull snorkel suit adds to Connery's title as the iconic James Bond. Flexible enough for him to hover stealthily in bodies of water, kick bad guy butt, prevents H20 from seeping inside, and keep his suit dry and himself looking ever dapper.
1. Trick Suitcase | 007: Sean Connery | Movie: From Russia With Love (1963)
Although a seemingly innocuous briefcase, this device has a scoped infrared rifle, a throwing knife, gold sovereigns worth loads of cash, and a defense mechanism that shoots tear gas to anyone who incorrectly handles the item. Bond could probably live off from this device all its own.